The grade-level monthly curriculum components:
Character-Building Parenting Activities
Teacher Lesson Plans
Mastery of Character Trait Activities
Character Bulletin Board Messages
Independent Student Study Activities (Middle & High School Students Only)
Training Presentations for Parents, Teachers, Community Partner, & Students
Implementation Helpers & Certificates
Site Licenses & Online Curriculum Fees
Level

Number of Students/
Licenses

Start-Up Fee (1st Year) per Student/
License

Annual Fee (After 1st Year) Price per Student/
License

1

25-749

$6.95

$1.50

2

750-1499

$6.49

$1.25

3

1500-2499

$5.95

$1.00

4

2500-4999

$5.49

$0.75

5

5000 or more

$4.95

$0.50
Classroom Implementation Kit—$49.95 Each
School Implementation Manual
30 Parent Training Pamphlets
100 "I Care" Grams
Two Teacher Notepads
30 "I Care" Pencils
"I Care" Mouse Pad
School Character Poster Set—$59.95 Per Set
(Elementary, Middle, or High)
13 laminated posters (18" x 24")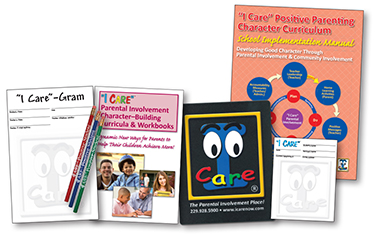 On-Site Implementation Training
"I Care" On-Site Implementation Training is customized to meet needs and time limitations of customers. $1,500/Day plus Travel & Lodging
Certification Conferences
Two 20-hour "I Care" Parental Involvement Certification Conferences are held annually in June and December in various locations. 40 hours of training are required to become a Certified "I Care" Facilitator. $795 per attendee per conference.